Professor Mariam Pirbhai teaches a course called Mapping South Asian Canadian Literature at Wilfrid Laurier University, the only one of its kind in Canada. With the release of her first novel, Isolated Incident, she finds it ironic to now be contributing to the same cultural body of work.
Isolated Incident follows the success of Pirbhai's award-winning short story collection, Outside People and Other Stories. Picking up a thread from one of those stories, Pirbhai's novel tackles a timely and deeply personal theme: Islamophobia.
During Islamic Heritage Month, Pirbhai shared her inspiration for the book and how her writing influences her teaching at Laurier.
Tell us about Isolated Incident. What is it about?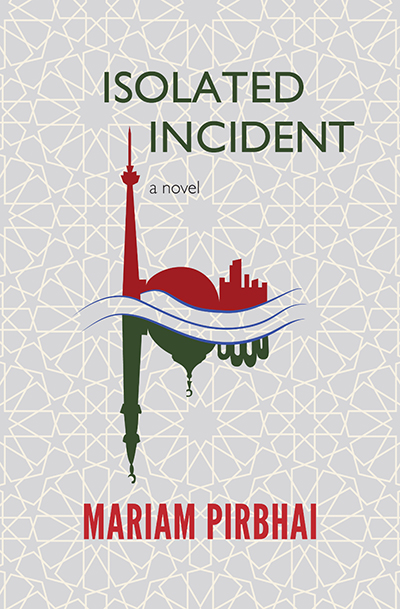 The book is told from the perspective of three second-generation Canadian Muslims in their twenties, each of whom is responding to the intensifying culture of Islamophobia around them. Specifically, they are reacting to an incident that happens in the GTA when a mosque is violently attacked.
Each of these young people has their own special relationship to Islam. One is just starting to reconnect with his parents' religion and trying to figure out if it is really for him. Another one is a queer Muslim, and the third character has recently embraced her faith and adopted the hijab. When I wrote it, I was thinking about Canadian Muslim identities and their intersections with class, gender and sexual orientation.
What inspired you to tell this story?
In my last book, I tackled Islamophobia in one of my short stories and I thought I had said enough about it. But then we witnessed horrific attacks on the Muslim community in Canada – specifically, the mosque shooting in Quebec in January 2017 – and that really affected me. The Trump era further exacerbated anti-Muslim and anti-immigration sentiments.
All of this was happening in the world around me while I was working on this novel about Pakistani Canadians, and I couldn't help but write about this escalation of violence and how it impacts those families. From there, it turned into a direct address of Islamophobia.
How can art – in this case, creative writing – affect how people feel about societal issues like Islamophobia?
One book is not going to change anything, but it becomes part of a larger conversation. Art has a significant impact on representation. Through my research, I have found some serious gaps in the way that Canadian Muslims are represented in Canadian literature. The focus has been on Muslims as objects of suspicion in anti-terror discourse or as people who have come to Canada as refugees fleeing sites of oppression. Rarely has the lens been focused on life here in Canada. What happens beyond that moment of sanctuary that Canada has come to represent? I think it's important to explore what it is to be Muslim in the West. Each story we tell is an opportunity to widen the lens and perhaps have a more meaningful conversation.
You have written that your "research, teaching and creative writing are greatly influenced by a personal history of multiple migrations." How did your personal history influence Isolated Incident?
I identify as Pakistani-Canadian, but my family didn't come directly from Pakistan to Canada. We had multiple detours and migrations, which I think is a common experience for many. I wanted a diverse cast of Canadian Muslims from different backgrounds whose stories hint at the different catalysts and paths to migration. I wanted to capture what it means to be a Canadian Muslim in all of its varying shades of diversity.
How does your work as an author influence your teaching here at Laurier?
The two are inseparable for me. They absolutely inform one and other, both in terms of the issues I tend to explore and the particular sensibility I bring to each of those domains.
My academic life, my research and the things I want to impart to my students about literature often come from a decolonizing perspective, given my training as a postcolonialist and my own personal history as someone from the Indian subcontinent. Through that approach and conversations about historical awareness, I hope to cultivate in my students a capacity to think critically through a comparative lens. Our world is bigger than the space that we occupy.